By
admin
on Monday, August 11th, 2014 |
Comments Off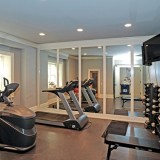 A personal gym should be well equipped with all the necessary equipment to allow you to train the way you want. When selecting equipment for your home gym, you should always keep in mind your fitness goals, budget and space restrictions. A home gym will give you the opportunity to exercise at any time of the day without having to leave the house. Below is some of the equipment needed for a home gym.
Cardiovascular Equipment
Having one or two cardiovascular machines will help you complete your workout indoors instead of having to go and run or cycle outside. There are many different types of equipment used for this - you can choose to invest in a treadmill for walking or running workouts, and you can also use an upright stationary bicycle, rowing machine or stairs climber as your cardiovascular equipment.
Weight Training Equipment
You will need to equip your home gym with equipment for strength training. The best equipment to use includes at least one barbell and a set of plate weights for a start. You should always buy a set that you can expand later on. This is because you will get stronger and you will need more weight. Adjustable dumbbells are very good since they save room and are also less expensive compared to an entire dumbbell set with a rack.
In terms of getting a full body workout, adding a weight bench and either squat stands or a power rack will allow you to train effectively with heavier weights.
Additional Extras
There are other small pieces of equipment that can be added to really complete your home gym. One of them is a mini-trampoline that can be used for a nice quick workout. You can also have an adjustable step bench for leg toning and calf rises. You can also add kettle bells and medicine bells in order to increase your core and limb strength and also give you flexibility. None of these items are essential, but can help add a little variety to your workouts.